GLOBAL OPERATION
With four regional offices and thirty major dealerships worldwide, RADIXON Group is committed to delivering advanced products backed up by superior service in all major defence and civilian markets.


WR-G39WSBe
The WiNRADiO WR-G39WSBe Sonobuoy Receiver is a third-generation receiver specifically designed for sonobuoy telemetry operation.
It is particularly suitable for standard DIFAR sonobuoys operating in the 136 to 173.5 MHz standard sonobouoy VHF band. This standard frequency range can be extended to UHF frequencies (up to 1.8 GHz) to suit customized telemetry requirements.
The WR-G39WSBe features an antenna input, analog output, as well as digitized audio output via the USB bus for spectrum analysis and monitoring.
The fully self-contained receiver can be used with a standard PC or even laptop or mounted inside an industrial-grade instrument rack. The receiver is supplied together with Windows control software (Linux support is optional) and support documentation.
The receiver's modular architecture allows for a high-degree of customization for application-specific requirements. The receiver also contains its own DSP, making it possible to develop customized solutions featuring various on-board signal processing, analysis and decoding facilities.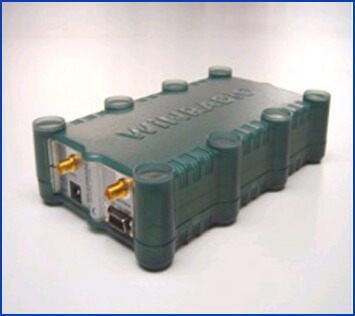 As most of the RF signal processing is performed by the receiver, the PC hardware and software requirements are modest. Up to eight receivers can be controlled by the same USB hub, and controlled separately and independently. WiNRADiO can also supply complete rack-mounted multi-channel systems.
The WR-G39WSBi receiver is supplied with Windows based application software. Programmers' API and Linux drivers are available upon request, suitable for integration in custom designed sonobuoy systems.
The Windows application software shows a graphical representation of all installed receivers (a virtual control panel), making it possible to observe the status of all receivers at a glance and make individual adjustments if necessary. Each receiver can be monitored and the real-time spectrum of the demodulated signal observed. An mixing facility is provided where a particular receiver can be selected for audio monitoring by simply clicking on the corresponding receiver panel.
WR-G39WSBe Control Panel
Technical Specifications
Frequency range
136.000-173.500 MHz
Channel spacing
375 kHz
Modes
FM (DIFAR)
Sensitivity
0.9 µV
IF bandwidth
230 kHz @ -6 dB
Skirt selectivity
470 kHz @ -25 dB
730 kHz @ -60 dB
Frequency response
5 Hz to 25 kHz @ ± 1 dB
5 Hz to 40 kHz @ ± 2 dB
Output level
1.0 ± 0.2 V rms @ 75 kHz deviation and 1 kHz modulation frequency
RSSI range
80 dB typ.
Image rejection
70 dB or better
Tuning accuracy
±1 ppm
Frequency stability
±0.5 ppm
Input impedance
50 ohm
Output impedance
600 ohm
Connectors
2 x SMA: RF input, demodulator output
Interface
USB (1.0 and 2.0 compatible)
Power requirements
12 V DC @ 500 mA
Dimensions
Length: 166 mm (6.5")
Width: 97 mm (3.8")
Height: 41 mm (1.6")
Weight
430 g (15.1 oz)
Ambient temperature
Storage: -20° to +75° C
Operation: 0° to +45° C
Specifications are subject to change without notice due to continuous product development and improvement.